Accessories aren't just meant for our bodies. They are also fantastic for breathing new life into our everyday items, such as bags. They serve to add a touch of personal style, making your bag uniquely yours, while also increasing functionality in some cases. In this article, we will delve into practical and stylish tips on how to accessorize your item like a pro, no matter the type or style of your product.
Choose the Right Bag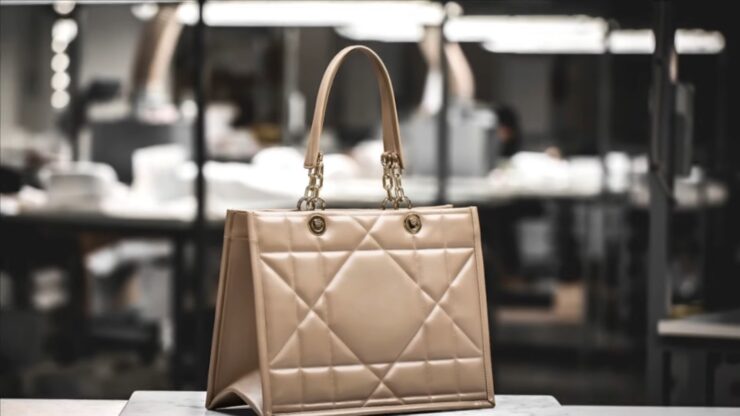 Before delving into accessorizing, it's essential to start with the right base – the bag. Consider what complements your personal style and suits the occasion. Tote bags, for example, are perfect for casual outings, while clutches and crossbodies are more suitable for formal occasions.
The size, shape, and color of your product also matter when accessorizing. Smaller ones tend to look great with more subtle accessories, while larger ones can handle more prominent ones. A red one may clash with certain colors but will pop with gold or silver accessories. Start by reflecting on your collection and think about what could elevate each piece.
Add a Statement Keychain
A statement keychain can infuse your bag with personality. Think of it as jewelry for your bag, adding a little sparkle or flair. Select a keychain that reflects your style or interests. You could go for a playful pompom or tassel, or something more personal like a charm of your initial or zodiac sign.
Remember, the keychain should not be too heavy to avoid damaging the bag's structure. Make sure it harmonizes with the bag's color and style.
Utilize Bag Charms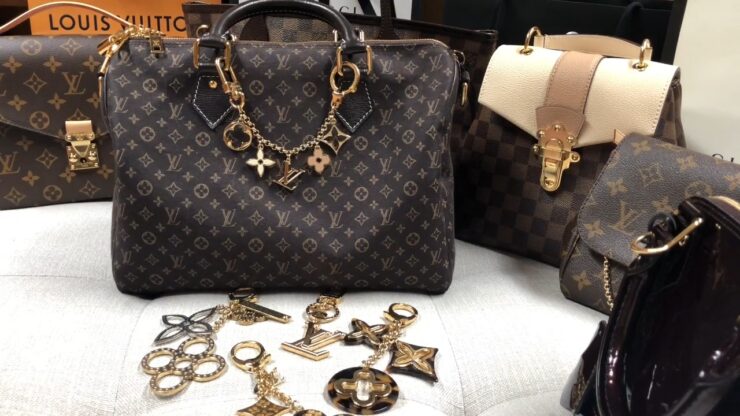 Charms have seen a surge in popularity in recent years. They offer an easy way to transform the look of a bag instantly. Consider charms that complement the bag's color and style – for example, a mini handbag charm on a large tote can be an amusing play on scale. From animals to initials, the possibilities are endless. Just ensure the charm isn't too heavy, and its color and material won't rub off on the bag.
Play with Scarves and Bandanas
Scarves and bandanas are versatile accessories. Tied to its handle or looped through a ring, they add a chic touch.
Silk scarves
are especially great for adding a touch of luxury. You can also experiment with cotton bandanas for a more casual, boho vibe. Play with different patterns, colors, and materials to add interest and dimension to your bag.
Incorporate Trendy Pins and Brooches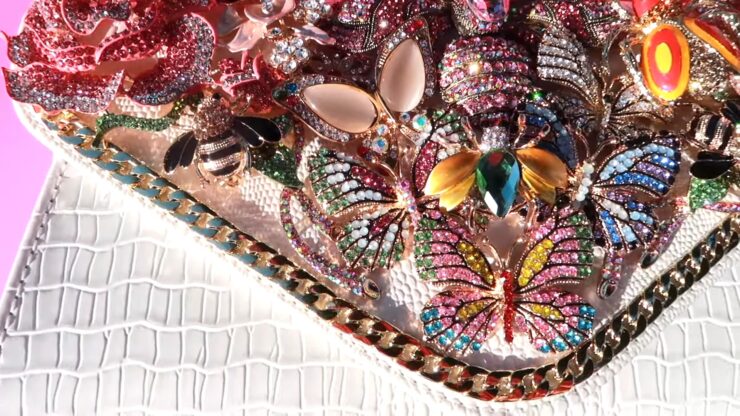 Pins and brooches have made a major comeback and can add instant style to your bag. From vintage brooches to modern enamel pins, you can express your style, interests, or causes you support. Consider a mix of smaller and larger pins for a visually intriguing composition. Pins work best on bags made from durable materials like canvas or thick leather.
Experiment with Straps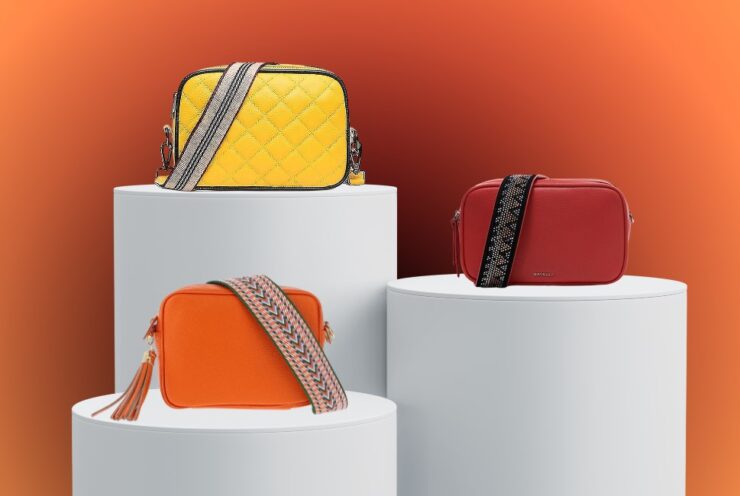 Changing its strap is an effortless way to breathe new life into your favorite accessory. By opting for a chain strap, you can instantly infuse an edgy and modern flair to your bag, perfect for those looking to make a bold statement. On the other hand, a woven strap exudes a relaxed and bohemian vibe, ideal for a casual and laid-back aesthetic.
It's crucial to ensure that the chosen strap complements both the style and color of your bag seamlessly. Additionally, durability is key, so be certain that the new strap is sturdy enough to comfortably support the weight of your favorite accessory, ensuring both style and functionality.
Embrace the Power of Patches
Patches can effortlessly inject a youthful and fashionable vibe into your bag, instantly elevating its overall appeal. By adorning your bag with patches, you have the opportunity to express your individuality and make a bold statement. Whether you opt for your beloved band's iconic logo, a witty and offbeat saying, or an adorable cartoon character, each patch contributes to creating a truly personalized accessory.
Strategic placement is crucial to maximize the impact of these patches. Depending on the material and design of your chosen product, you can artfully position them on the front, sides, or handles, ensuring that every patch finds its perfect spot to shine.
Consider Bag Inserts and Organizers
While aesthetics certainly play a vital role in selecting a product of this type, it's essential not to overlook the importance of functionality. Inserts and organizers serve as fantastic tools for effectively compartmentalizing your belongings, allowing for easy access and enhancing its overall functionality.
By utilizing these inserts, you can efficiently organize your items, ensuring they remain readily available while protecting its interior from potential damage. It is crucial to consider the size and purpose of your accessory when selecting an insert or organizer to guarantee a perfect fit that maximizes both convenience and practicality.
Opt for Bag Chains and Handles
Chains and handles serve more than just practical purposes; they also bring a touch of style to any item. To enhance the overall aesthetic, one can explore an array of materials and finishes. For a luxurious appeal, consider incorporating gold chains, exuding an air of opulence and refinement.
Alternatively, leather handles provide a classic feel, evoking a sense of timeless elegance. To embrace a more contemporary and fashionable look, acrylic handles are an excellent choice, showcasing a modern and sleek design. With the abundance of options available, one can effortlessly personalize their belongings, adding both functionality and a distinctive flair.
Experiment with Embellishments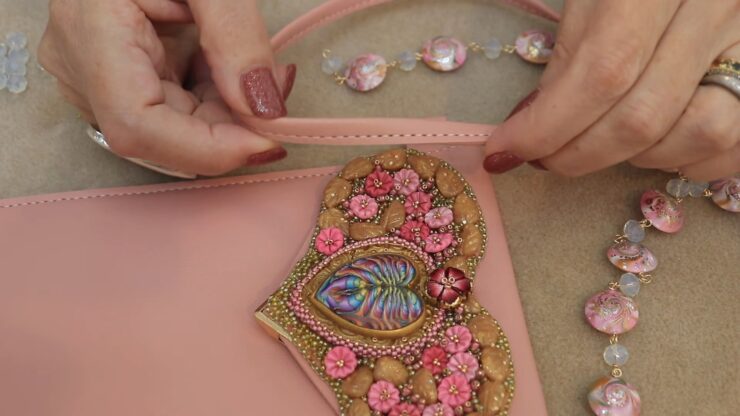 Embellishments can give your accessories an eye-catching and unique look. Sequins, beads, or studs could add a dose of glamour or edginess. However, consider the bag's material and durability. Delicate fabrics might not hold up well under the weight of heavy embellishments.
Coordinate with Outfit Accessories
To achieve a truly polished appearance, it's essential to coordinate your bag accessories harmoniously with your outfit. By carefully selecting items that complement each other, such as matching colors, patterns, or styles, you can create a cohesive and put-together look.
For example, if you're wearing a dress adorned with a beautiful botanical print, choosing a bag charm in the shape of a leaf can subtly echo the natural motif, adding a touch of elegance and enhancing the overall aesthetic of your ensemble. The attention to detail in such coordination can elevate your fashion game and leave a lasting impression.
Conclusion
Accessorizing your item can be a fun and creative way to express your individuality and style. Whether it's through a statement keychain, trendy pins, or chic scarves, the options are endless. Remember, the best accessory is confidence. Don't be afraid to experiment and have fun with it. After all, your bag should be as unique and fabulous as you are.